By
admin
Are you plan to get a monitoring app to tracking someone's iPhone X via your smartphone or computer? I recommend the best monitoring software to you. This software can help you do many things without jailbreaking.
iPhone X Spy App
Spy On Any iPhone X with our most powerful iPhone X Spy App
View SMS, Email, Web history, Bookmarks, App usage, Address book, Notes, Calendars
Listen iPhone X calls in realtime, or record calls to listen anytime
Remotely open the microphone and listen to the iPhone X's surroundings
Record iPhone X VoIP Calls: Skype, Facebook, Viber, LINE, WhatsApp and more
Easy to install, step by step guide with screenshots
iPhone X Keylogger included. Record keystrokes to see anything typed on iPhone X
Remotely control the iPhone's camera to take pictures, or videos
Has option to run it in 100% invisible mode or visible mode
Spy on Chat Apps. iMessage, Facebook, WhatsApp, Snapchat, Viber, Skype, LINE and + 12 more apps
Free updates and device changes during subscription
View all Pictures, Video and Audio stored on the iPhone X
How this iPhone X Spy App works?
1. Get credentials
Obtain the iCloud credentials of your child's non-jailbroken iPhone X. (Physical access is required if iCloud backup isn't activated on monitored device or 2-factor/2-step verification is enabled).
2. Buy it
Choose no-jailbreak package. After you complete the payment, you will receive a welcome letter with further instructions. Should you need any help, our customer support is here 24/7.
3. Start Monitoring
Complete your payment, install the software and log in to your Control Panel to begin tracking your child's iPhone X activity.
Pros
– It also supports android phones.
– It has a live control panel option that makes it better than any other spyware for iPhone Apps.
Cons
– Dependency on the Internet
Price
– As low as $29.99 per month!
Get iPhone X Spy App by clicking below button:

Undetectable iPhone X Spy Program
iPhone X Monitoring Software is the most powerful and undetectable Spyware for iPhone X
A ton of advanced technology in a single iPhone X spy app
Spy on iPhone SMS
Remotely read all incoming and outgoing SMS messages. iPhone X Spy App captures SMS messages sent or received on an iPhone X, even those that may have been deleted. See details such as contact names and numbers associated with SMS messages including date and time.
Spy on iPhone X Chat Apps
iPhone X Spy App is the only IOS tracking program that can spy on all popular messaging application. Spy on Facebook, WhatsApp, FaceTime, Skype, LINE, Viber, Snapchat and many more. See conversation including the stickers, status, profiles, pictures, locations and emoticons.
Listen Live Calls
iPhone X Spy App  allows you to spy on phone calls taking place on any iPhone X, iPhone 8 Plus, iPhone 8, iPhone 7, iPhone 6 or iPhone Se. It's like having a direct line onto every call, hearing it live as it happens. You receive a secret SMS alert. If you then call the target mobile, you will be added to the live calls and listen in real time.
iPhone X Call Recording
iPhone X call recording record phone calls on iPhone X in both ways. You can record any call made to or from the target iPhone X. Recorded calls will be send your web account. You can listen or download recorded calls anytime. The only iPhone X Spy App that can record phone calls.
Listen To Surroundings
Hear what's happening around the target iPhone X. Open the microphone and listen to the iPhone X's surroundings. Remotely turn on the target iPhone's microphone. Listening the phones' surroundings, like a bugging device (conversations in the room, etc).
Record iPhone X Surroundings
Remotely enable the target iPhone's microphone. Set the ambient recording to recorded immediately or scheduled. Surroundings voices will be recorded and files will be uploaded to your web account. You can listen or download at anytime.
Spy on Media Files
iPhone Tracker allows you to access all media files on their iPhone X remotely. Get all images they take or that are already on their iPhone X Hear all audio and voice memos. Even if they delete media files, you will still have a copy on your web account.
iPhone X Location Tracking
iPhone X Tracker uses GPS positioning to show the coordinates of the target iPhone X. Location linked the map inside your web account and display a path of travel between certain time periods. You can easily track the target iPhone X from inside your web account.
iPhone X Keylogger
See everything that's being typed. iPhone keylogger lets you see everything that's typed on the iPhone X. Discover search terms, notes, passwords and more. Captured iPhone X keystrokes automatically uploads to your web account to view and download.
Spy on Email
Know exactly what is being sent on their iPhone X. iPhone X Spy App captures E-mails and sent to your web account. iPhone X email tracker captures all their email messages. If the e-mail address is in the phones address book, the contact name will also be available.
iPhone X Spy Camera
Turn on target iPhone X's front or back camera remotely. Take photos or videos using the iPhone 's camera and view it later from your web account. iPhone X Spy Camera is a powerful mobile surveillance feature for iPhone X monitoring app and competitors does not have this feature!
Record iPhone X VOIP Calls
Record iPhone X VOIP calls for Facebook, Skype, Viber, WhatsApp, Line and Hangouts. If target iPhone X make or receive calls then these calls will be automatically recorded and uploaded to your web account. You can listen or download at anytime.
iPhone X Spy App Interface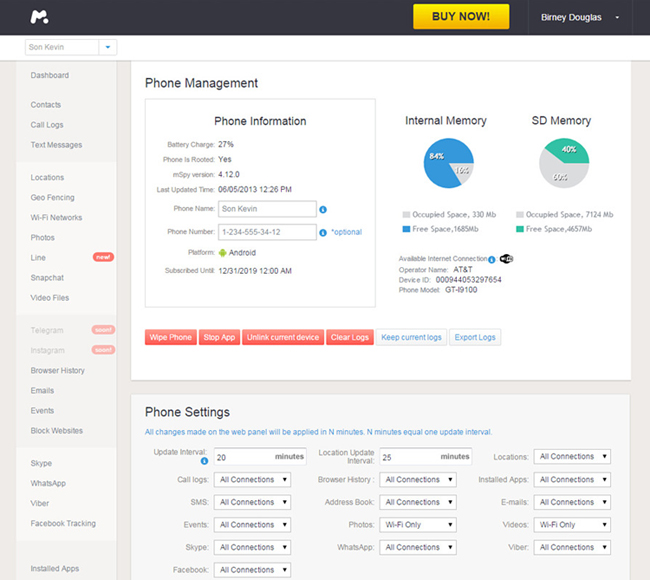 iPhone X Spy App is completely undetectable.
Undetectable iPhone X Spy App runs in the background without any evidence. It is the only 100% undetectable iPhone X Spy App on the market. It does not effect performance or battery drain. It is hidden from launcher, and home screen, hidden from task manager.
Hide Jailbreak Evidence
iPhone X Spy app lets you hide its own icon, as well as CYDIA icon. They'll never know their device has been jailbroken.
And even more features
See Address Book
Get entire address book with all names, phone numbers, emails etc.
See Call History
View call history and get the name of the contact from the address book. The time, duration and number.
Web History
Track browsing activity and bookmarked web sites in the phone's web browser.
Sim Notification
Get notification when user change sim card.
Device Change
To protect your investment, iPhone X Spy App allows you to move the software to any other supported device.
​Remote Control
Manage your iPhone X Spy App software remotely on your web account.
Ease of Use
iPhone X Spy App is simple to install and use, usually within 2-3 minutes.
Platform Change
You can move you software between different platforms.
Undetectable
iPhone X Spy Software is a hidden spy application, and cannot be detectable.
​Remote Uninstall
iPhone X Spy Software can be uninstall remotely on your web account.
Remote Update
iPhone X Spy App can get new updates from the server remotely.
​Application Activity
iPhone X monitoring program can detect Install, Uninstall and usage of apps on the device.
Spoof SMS
Send an invisible SMS from the target phone to any number you specify.
Security
AES/PKI Encryption, HTTPS Encryption on your data.
Check Battery Levels
Check battery levels remotely on your web account.
Call Notification
Get notified when a number you specify calls or is called.
Silent Sync Feature
Hidden Remote Control – Change Application Settings Remotely
After installation spy software you simply log in to your web account and you can then use the specific control centre. On your web control panel you can control the phone/computer remotely and tailor iPhone X Spy App completely to your needs without the effort of needing the target device in your hand at all times. You can to set up the software remotely on your web account. Enable or disable any feature, temporary stop spying, or you can uninstall spy software remotely. Only iPhone X Spy App makes it effortless to control a phone/tablet or a target computer remotely.
Real time Analytics – Analysis and Alerts
Get alert when your name or pre-defined keyword is mentioned in IM/SMS or email conversations. There are calls from unusual or withheld numbers? Define events like proximity, keywords or suspicious numbers – and know the instant they happen. Flag data for convenient analysis. Search in reports or create downloadable reports.
Get all iPhone X's activities to your web account
iPhone X Spy software uploads all target device's activities to your secure web account silently. Uploading logs is totally hidden and can be done by any available connection method – Wi-fi, or Network Data. Control Panel is easy to use and it provides all the captured data in a single report. You can browse categorically in captured data, you can mark as important, print, or export download.  You can see target device current GPS location remotely or historically movements on a map.
iPhone X Spy App Reviews
Hi, my name is Hector Torres from Canada. I bought iPhone X Spy App Premium Package to have a full bunch of monitoring opportunities. Have to say the app does what it claims. There was a huge spectrum of things I wanted to find out. The software happened to be compatible. So I have to recommend this software to you. – Hector Torres
I got started using mSpy App 3 years ago when my kid took a bus to another city just for fun. I thought I would die when I was waiting for him at home ready for a serious talk. Our last option was Bundle 'cause that's more convenient for both me and my husband. 20% off sounds good anyway. From now on, I can at least know where my son is and what he is doing. –  Nigel Parker